What sets Reflection Dental Las Vegas apart from another 89103 dentist is our level of professionalism and care. With a whole team committed to ensuring that your treatment goes as smoothly and painlessly as possible, our service is second to none.
At our clinic in Spring Valley, NV Reflection Dental treats you as an individual and puts your care at the forefront. This includes:
Providing a large portfolio of treatments
Ensuring we are equipped with the latest technology and methodology
Offering first class dental care
Ensuring that you are comfortable before we begin treatment
Continuous professional development ensuring our staff are always up to date with the latest developments in the field of dentistry
And Many Others!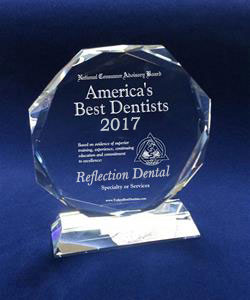 As you would expect from a world-class dental service, Reflection Dental provides the full range of dental services for both adults and children in Las Vegas 89103, including general dentistry cosmetic and specialist dental services.
General dental services include:
Extractions
Wisdom teeth
Emergencies
Dentures
Cosmetic dentistry services offered include:
Teeth whitening
White fillings
Porcelain veneers
Aesthetic bonding
Dental Implants
Specialist dental services include:
Periodontics and Endodontics - procedures involving things such as the roots and gums which support the teeth
Oral and facial surgery, including oral and maxillofacial surgery, oral surgery and orofacial surgery
Orthodontics, where braces are used to prevent and correct misaligned teeth and jaws