Normal brushing and flossing will remove food debris and prevent plaque from forming on most teeth. However some areas, particularly the back teeth can be hard to get to, leaving them susceptible to decay, particularly the molars and premolars. At Reflection Dental in Las Vegas 89103, our dentist 89103 can use dental sealants to protect these vulnerable teeth.
A dental sealant is a thin plastic like substance which is painted onto the teeth at our offices here in Spring Valley NV, forming a bond which covers the grooves cracks and depressions which occur in teeth, protecting them from potential decay.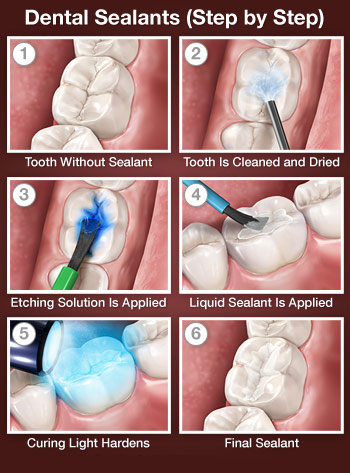 At Reflection Dental Las Vegas, we treat mostly children and teenagers with dental sealants as they have particular difficulty reaching those back areas and decay can begin at an early age. We can treat children as soon as the premolars and molars appear, so from about the age of six, preventing cavities appearing right from the start.
We can even apply sealants to a baby's teeth. Young teeth can develop grooves and depressions and very soon begin to decay. Baby teeth play a vital role in the development and positioning of the adult teeth and therefore should be protected from early loss. Dental sealants are not only for young people however: adults can also benefit from their protective qualities.
The process for applying dental sealants is relatively quick and simple. The teeth to be treated need to be thoroughly cleaned and dried, then an acid solution used to help the bonding process. Another rinse and dry before the sealant is applied to the teeth. The sealant will begin to harden straight away, but we may use a special light to help the process.
A well looked-after sealant should last for about 10 years, but it should be checked as part of regular examinations for any signs of damage. If you think a dental sealant may be appropriate for you or your child please discuss it with your Las Vegas dentist.