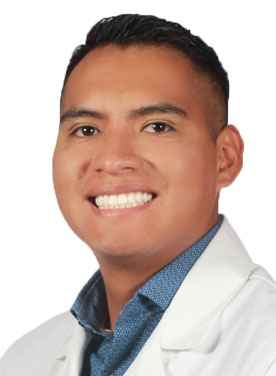 Dr. Hinojosa, DMD
Dr. Hinojosa, DMD
Dr. Hinojosa was born in Peru and immigrated to the United States with his family when he was 14 years old. He grew up in Las Vegas, Nevada and attended Rancho High School's medical program. He fell in love with science and decided to pursue biology as his major. He later attended the University of Nevada Las Vegas's School of Dental Medicine and graduated with his Doctor of Dental Medicine.
"I was exposed to dentistry when I was volunteering at a dental clinic that was providing free dentistry to veterans. I realized how much I could help the community and decided to pursue dentistry. My goal is to help the community with their dental needs. I believe I could help the community lose the fear for the dentist. My team and I value the patient's expectation and we work together to provide a great experience for everyone."
On his free time, he enjoys hiking, ballroom dancing and gaming.
We Promise...to listen to you and put your needs first, always.
We Promise...to be genuine, fun, caring, and exceed your expectations at everything we do.
We Promise...to continuously strive for excellence for every patient, every day.
We Promise...to give back to the community and help enrich people's lives.
Why? Because, we care about people. At Reflection Dental we care about more than just your dental health. We want to create lifelong relationships with you, your family and your friends.
How do we do this? We carefully select our team members and choose people who strive to give their best every day. Our team members are dedicated to exemplifying servant leadership. We are here to serve people. We are continuously growing and learning through continuing education in order to provide the best quality care and treatment.
Reflection Dental welcomes you to come to our warm, and caring dental office in Las Vegas NV. Our entire staff is dedicated to making sure that your dental visit is perfect. We make sure we get to know our patients well, and are sensitive to their needs. Inside, you will be greeted by our friendly staff and will be welcomed to sit in our comfortable seating area until your appointment is ready.
Our operatories are equipped with modern technology, fit for the task of making sure your appointment goes smoothly. You will find that the environment is peaceful, and comfortable. We work to ensure that you are in and out of your appointment in a timely manner.
What we offer...
Our 89103 dentist knows that dental emergencies don't always happen during regular business hours. We offer after hours' emergency services for our patients.
We understand that schedules can be hectic. That's why we have a friendly call center team available after hours to schedule appointments.
Experienced clinicians and team members that care about you.
Flexible payment arrangements including interest free financing.
Our experienced team will help you maximize any potential dental insurance benefits you may have.
In addition to working with most insurance companies, we offer an in-house discount plan to help those without dental coverage. We want everyone to receive the dental care they need and deserve.
We appreciate your loyalty and commitment to your dental care, that's why we strive to make dental care easy, affordable and most importantly stress free!
We want to thank you for your referrals. When you refer a friend or family member it is the best compliment we can receive.