The following table shows the types of dentures available and their price.
| DENTURE TYPE | | | |
| --- | --- | --- | --- |
| Top Denture View | | | |
| Bottom Denture View | | | |
| Materials | Unaccented materials | High strength, high-grade compound | Wear resistant, high-grade materials |
| DENTURE TYPE | | | |
| --- | --- | --- | --- |
| | | | |
| Materials | Cast metal frame and clasps. Created with materials known as the industry standard | Flexible plastic with flexible clasps. Lightweight, durable compound, metal-free | Combination of cast metal frame and flexible plastic clasps. Lightweight, flexible materials, plus metal framework for stability |
We Do Implant Dentures Too!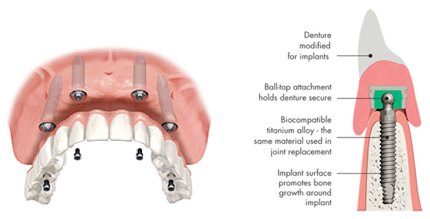 Dentures are simply replacements for missing teeth and surrounding tissue, and are normally removable. At Reflection Dental in Las Vegas, dentures come in two types: partial, where some of the original teeth remain, and complete or full, where the entire top or bottom teeth are missing.
With conventional dentures, if teeth are being removed, then you will have to wait eight to twelve weeks for the surrounding tissue and gums to heal. Immediate dentures allow you to wear them straight away, being fitted directly into the empty socket. Whilst this may be seen as preferable, the surrounding areas will shrink during the healing process necessitating adjustments to the dentures. They are regarded therefore as a temporary replacement whilst you wait for your conventional dentures.
Partially removable dentures by our dentist 89103 at Reflection Dental rely on a metal frame which holds the dentures (which are attached to a gum colored base) in place.
At Reflection Dental Las Vegas, our dentist 89103 will ensure that your dentures, whichever option you choose, will look, feel and function just like your regular teeth. The choice however is up to you in terms of quality, price, and warranty. Talk to the experts at Reflection Dental in Las Vegas to help decide which denture option is the best for you.